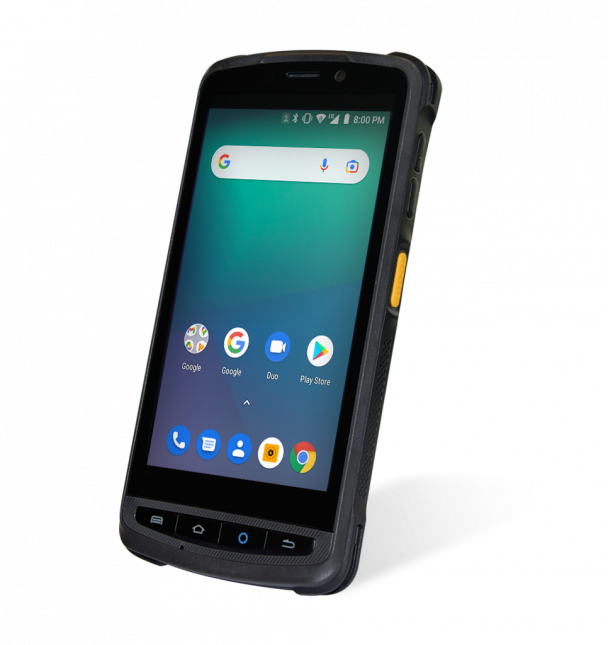 Scanning with a "mobile phone"
The Newland MT90 Orca III mobile computer is designed with an optimal form factor for a fully touchscreen mobile computer with barcode scanner (1D and 2D). The consumer style design and the Android 11 operating system make the experience similar to picking up a personal cell phone.
This ensures intuitive use and little explanation to the person who will use the scanner.
Robust & IP65
The device is rugged and designed to withstand everyday drops and bumps, but no compromises have been made on ergonomics. The MT90 Orca III is built to withstand dusty environments and unavoidable knocks and drops. It has a rating of IP65 and has been tested on drops up to 1.5 meters, or 1.8 meters with a protective cover, which guarantees a longer and more reliable use.
Plus at only 270 gram it is no problem at all to take the scanner with you all day.
A hand strap, wrist lanyard or optional holster help to keep it with you easily.
Mobile computer with full touch screen
The MT90 Orca III is a handheld scanner equipped with a fast 2,0 Ghz Octa-core procssor, 32GB storage and 3GB RAM memory. It is a light and durable device with a 5" capacitive touch screen. The scanner is equipped with a 4500 mAh batterij goed voor zo'n 10 hours, in addition, the battery fully recharges in about 5 hours. In terms of connectivity there is also plenty to choose from, WiFi / 4G , Bluetooth (5.0), NFC and GPS.
If you want to know more about this device, please contact us!
Datasheet Newland MT90 Orca III